The 4-star Art'otel Budapest is located on the Buda side of the Danube River. It provides a pleasant view of the river and the parliament building. The hotel is dedicated to D. Sultan, the contemporary American artist. His works of art are on display throughout the hotel, including the guest rooms. The hotel is an interesting combination of a modern building and four restored 18th century baroque houses.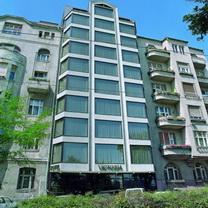 This four-star-hotel has a unique setting on the riverside. Every room looks over the Danube! You can see the House of Parliament on the other side - all these with moderate prices!
Hotel Charles is a unique apartment-hotel on the Buda side of the capital, right by Gellert Hill, towards the Castle District.
2 km from the city center
Romantic, pass century beginning outside - friendly, family atmosphere inside - in the heart of Budapest. If you plan your business trip, or wish to have a romantic getaway, a long family vacation in the centre of Budapest, choose Gold Hotel Buda to be your accommodation. .
Familiar hotel between historical walls, in the picturesque Castle District, the world heritage of Budapest.
2 km from the city center
This modern hotel is situated at the foot of the famous Fishermen's Bastion and the romantic Castle District, just a few steps away from the city's business quarter and the shopping area. With its central yet quiet location it offers the very best in modern hotel comfort.
The hotel is situated in the business centre of Buda, in pleasant surroundings, with a view of the Royal Castle.
3 km from the city center
Budapest Hotel Map (1st district only)